The opposition Congress party was led by president-elect Rahul Gandhi, part of India's oldest political dynasty, who is hoping to make a comeback in this important state.
"PM Narendra Modi's roadshow after he voted in Ahmedabad was a flagrant violation of the model code of conduct", Congress leader Ashok Gehlot said. J G Patel, the inspector of Ranip police station, said an application of complaint from the Congress regarding the violation of the model code of conduct has been received.
The Congress Party is apparently pained at the Election Commission for allowing the PM Modi to walk from the polling booth to his procession and in turn "influence" the voters. At an election rally in Palanpur in North Gujarat last Sunday, Prime Minister Modi accused the Congress leaders of plotting with Pakistani officials to bring about the BJP's defeat in the Gujarat elections. "Commission will soon brief on that", he said.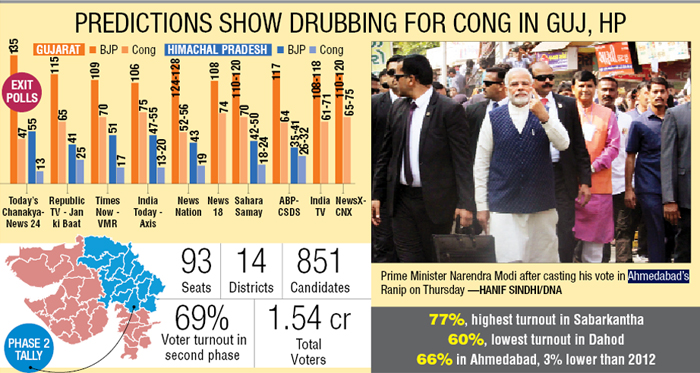 The Congress claimed that no FIR was registered against BJP president Amit Shah and Railway Minister Piyush Goyal for holding press conference in Ahmedabad and Delhi respectively.
Congress workers on Thursday protested outside the Election Commission headquarters here alleging that it is adopting "double standards" and not following the principle of neutrality while dealing with the Congress and the Bharatiya Janata Party (BJP). "The Election Commission of India has denigrated the Constitution and abdicated its responsibility", he added. "A desperate prime minister facing defeat in Gujarat holds a roadshow with BJP flags, flagrantly flouts the Constitution and the code of conduct". What the Prime Minister said amounted to making a specific charge against some specific persons who were named and who had held important positions in the previous government.
Upon a complaint lodged by the BJP, the EC had, on Wednesday, ordered FIRs against news channels that aired Rahul Gandh's interview and also served him a show cause notice for violating the legal provision that prohibits display of election matter 48 hours ahead of voting. Joti was principal secretary and chief secretary in Gujarat when Narendra Modi was chief minister. "If the EC becomes subservient and captive to the whims and fancies of the Prime Minister and the ruling party, the entire election process would come under a cloud", the memorandum underlined. BJP spokesperson G.V.L Narasimha Rao accused the Congress of "dynastic arrogance" for attacking the EC.